What links Egon Schiele and Jean-Michel Basquiat? This exhibition showed me that despite being one century apart, coming from different cultures and backgrounds the two artists shared quite a lot. Both criticized their societies as well as ironized about themselves despite their existential anguish; they possessed sure brush-strokes and a frenetic creativity. Both also died way too young: Schiele (1890-1918) in the Spanish flu and Basquiat (1960-88) in an overdose.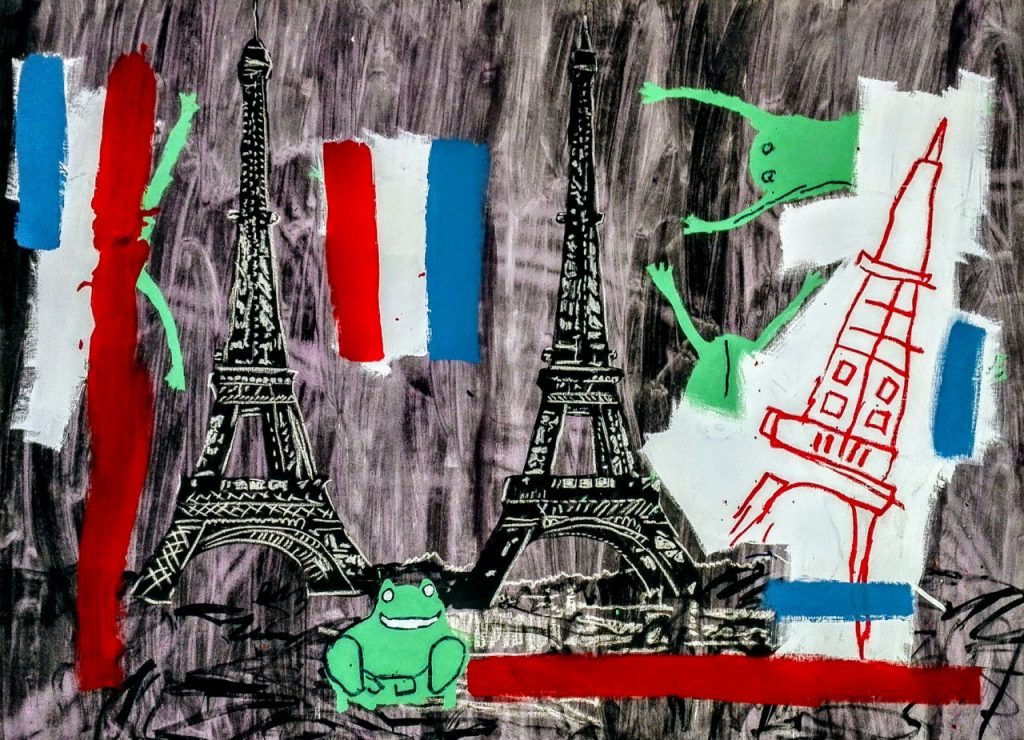 Jean-Michel Basquiat & Andy Warhol, Eiffel Tower, 1985
The subway took me to the limit of Paris center, close to Bois de Boulogne known also for its prostitutes… but this sunny morning I didn't see any. Instead Frank Gehry's modern glass-building rose high among the treetops. The museum's Icelandic artist Olafur Eliasson's yellow pillars shone through the windows, mirroring themselves in the outdoor water-staircase. It's worth the trip just to view this fabulous architecture, built in an elegant mix of glass, steel and wood.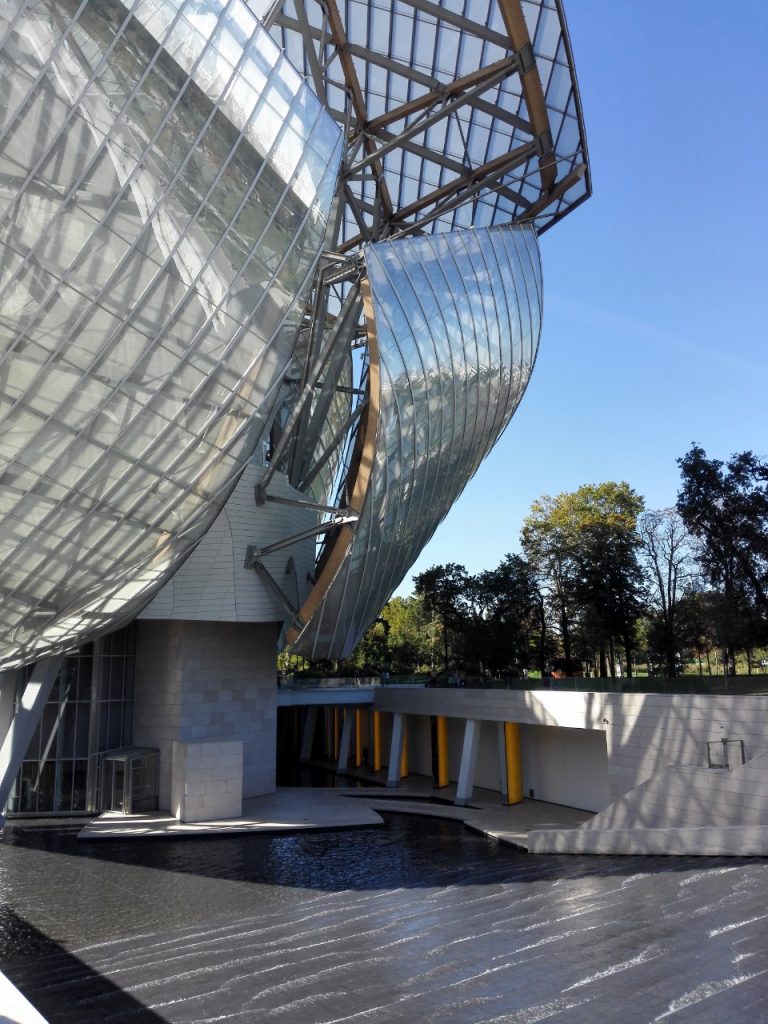 Fondation Louis Vuitton
As the weather was so lovely, I started the tour backwards, at the rooftops with a stunning view over the capital. The sun and the warmth contrasted with Basquiat's dark humor, critical eye, skulls, violence and wicked self-portraits – as did Egon Schiele's depiction of skinny and tormented people.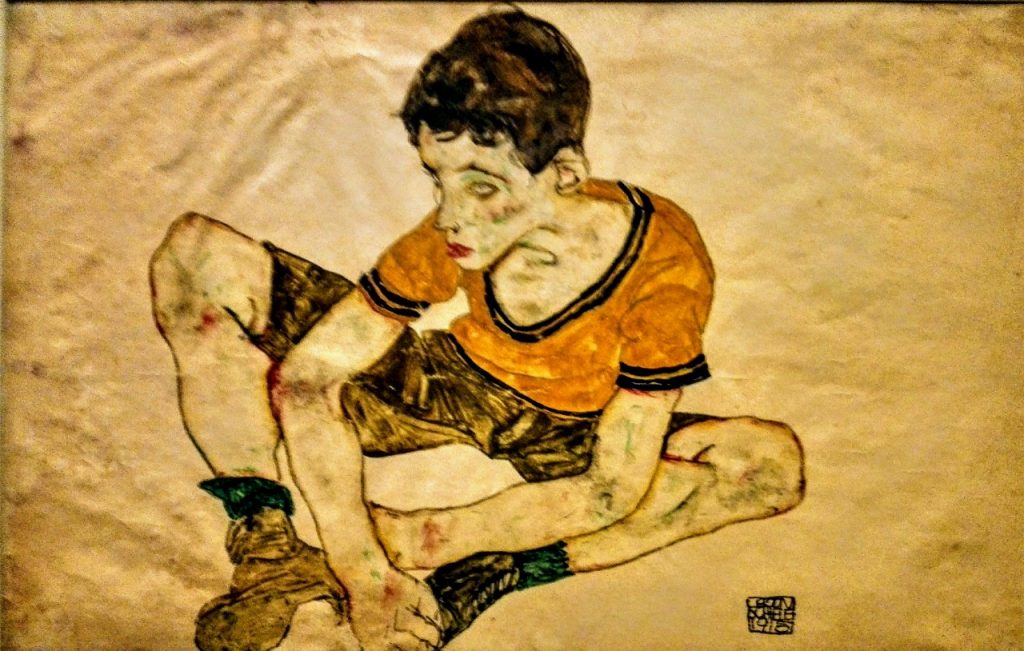 Egon Schiele, Cowering  Boy, 1915
Basquiat's mix of collage, cartoons and paintings appeal to a younger public used to Internet windows popping up simultaneously. The public wasn't either the usual one seen daytime at most exhibitions: Rasta instead of grey hair, sneakers instead of high heals, torn jeans instead of well-ironed pants… The suburb kids surely recognized themselves in the artist's critique of police brutality as well as his view of society with slogans such as "irony of negro policeman".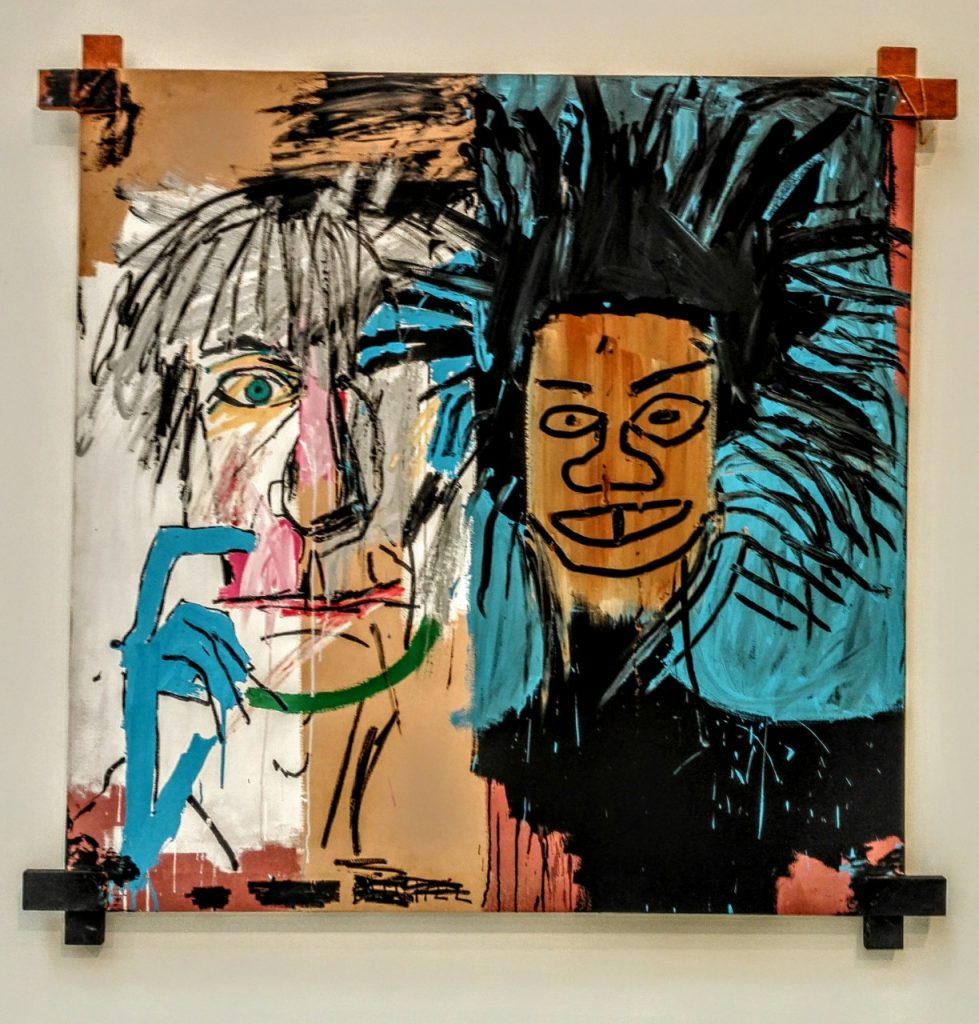 In the series he did with Andy Warhol, Basquiat added short messages in his collage-paintings. Keith Haring thought they were like "a physical conversation where the colors instead of the words acted as messengers".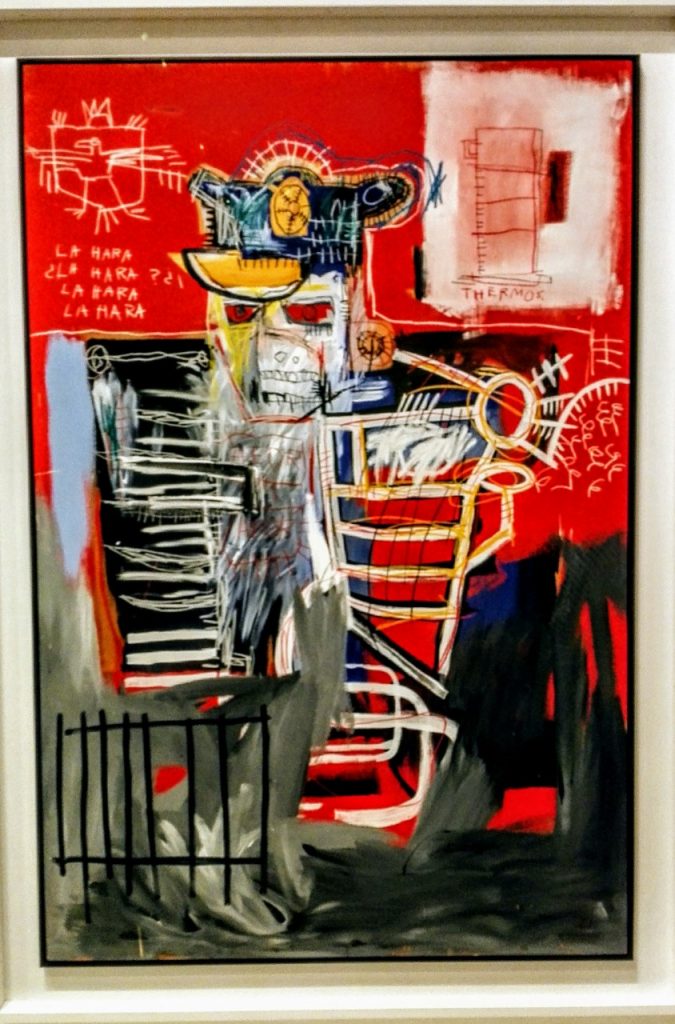 One of Basquiat's latest works "Riding with Death" – which motive was directly inspired by Leonard de Vinci's painting – was like a prophecy of his soon to be death.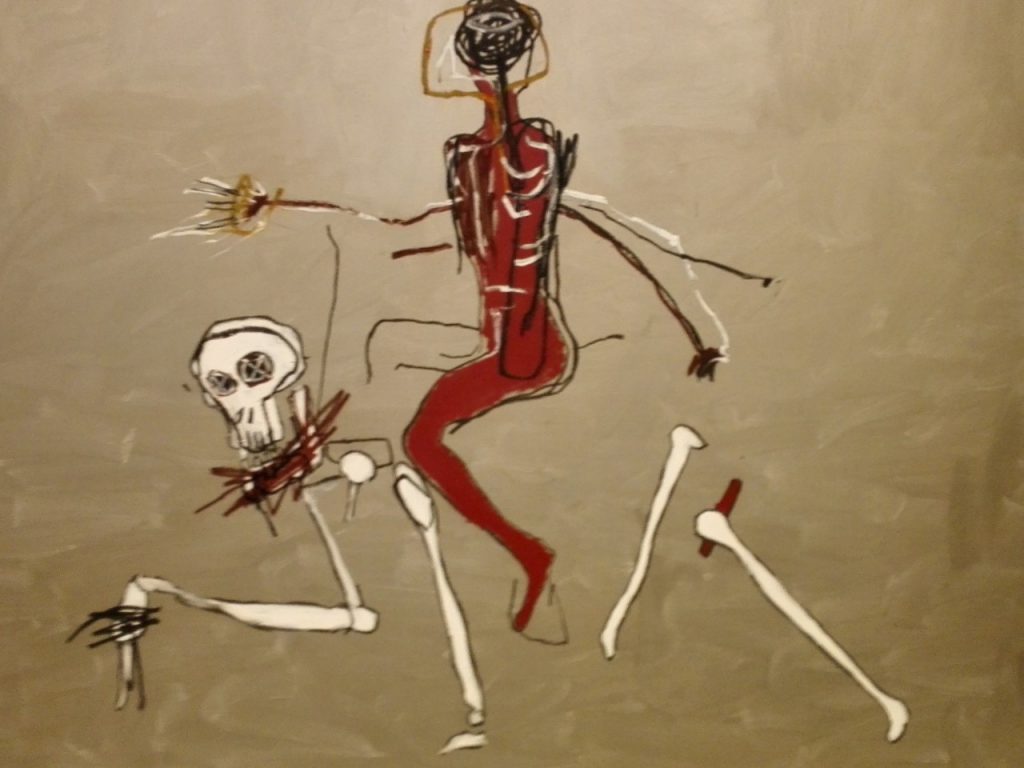 Riding with Death, 1988
Egon Schiele is shown in the museum's basement and despite that his way of painting and drawing differs markedly from Basquiat's, they appear almost as twin souls with similar angst, drive and criticism. Their sense of feeling like outcasts and undesirables shines through their motives. Schiele's torn, deformed, naked bodies show that even in the most erotic nudes, there lingers distress. The colors as well as his way of drawing reminded me of another tormented artist: van Gogh.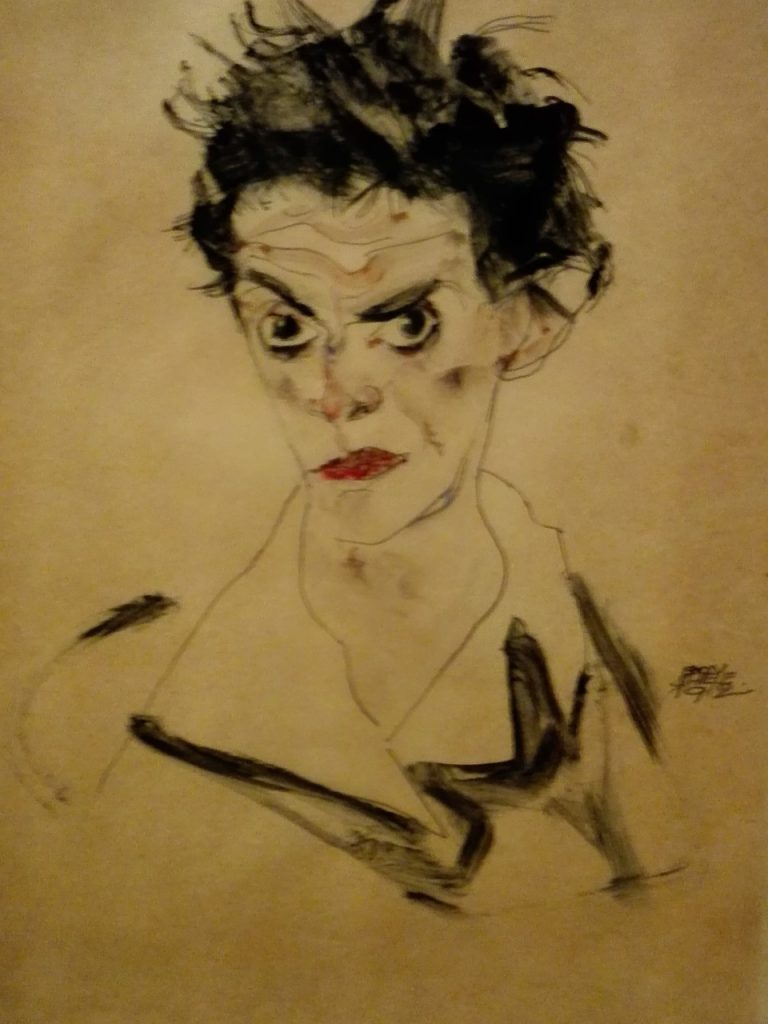 Egon Schiele, self-portrait, 1912
Wien in 1900 and New York in 1980 don't have much in common. However our humanity, our vulnerability, our sensitivity don't change over the centuries. The artists' mysteries and skills lie in their capacity to convey these feelings independent of epochs. That's why we can recognize ourselves in both Basquiat's and Schiele's works.
Anne Edelstam, Paris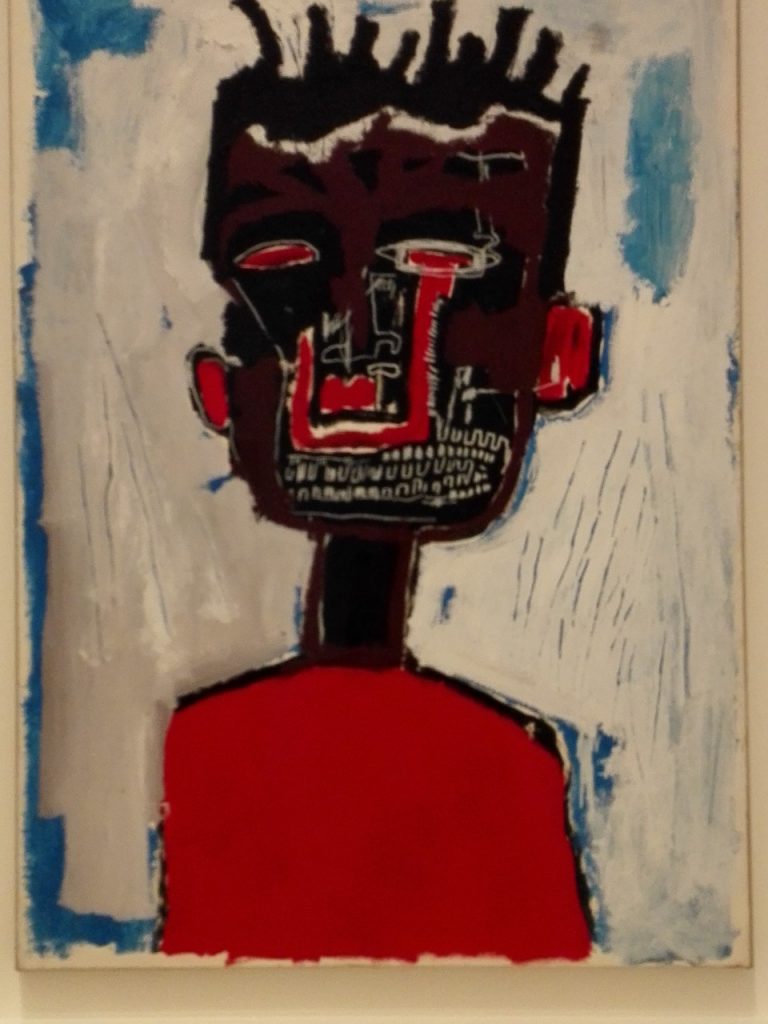 Basquiat, self-portrait, 1984